Circus Satin Muslin Comforter 2-Pack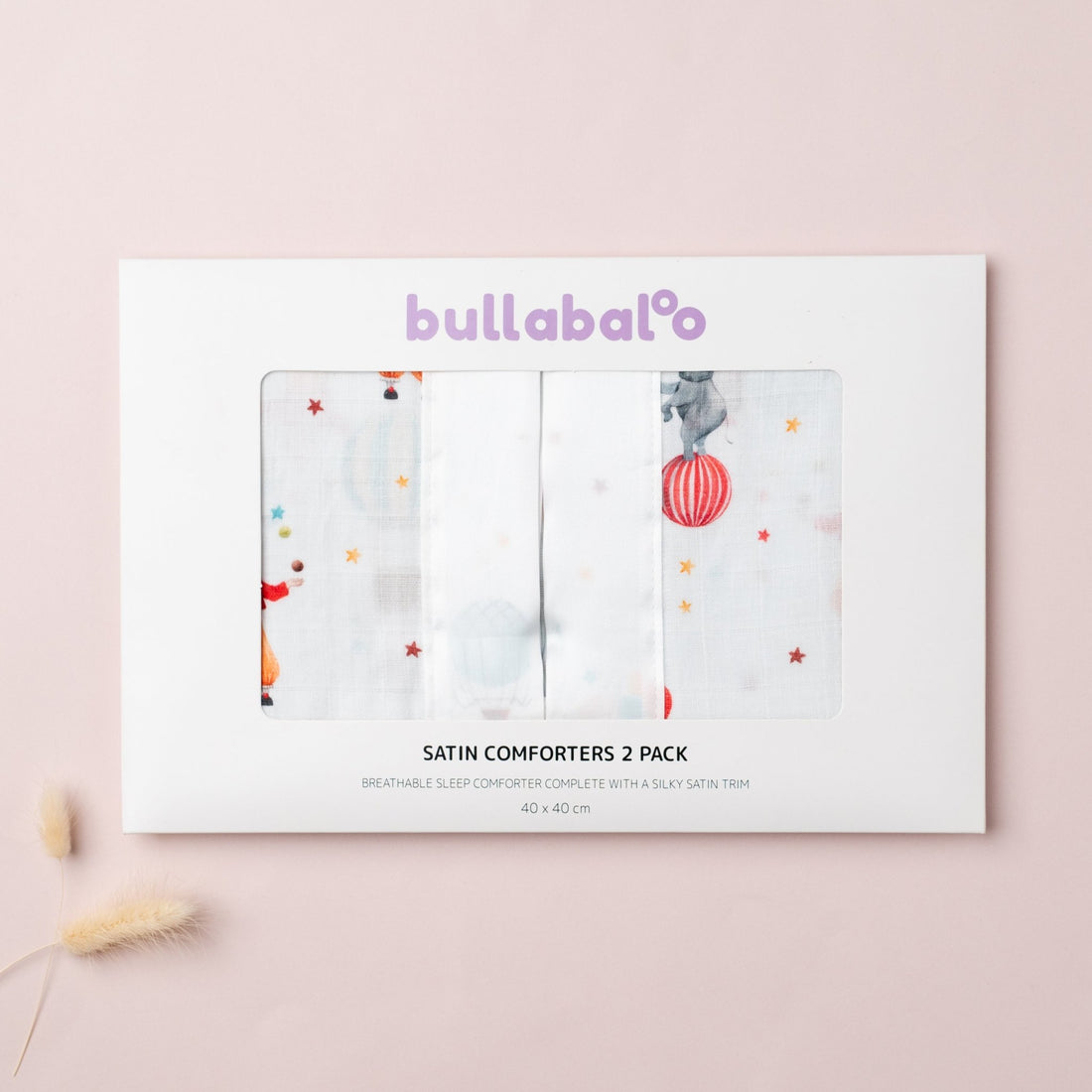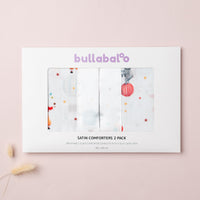 Circus Satin Muslin Comforter 2-Pack
Get a better night's sleep for both your child and tired parents with our multi Award-Winning Satin Muslin Comforters. Made with a breathable muslin centre, trimmed with a silky satin edge, our muslin comforters can aid infant sleep, nap and quiet time's. They're also excellent when your child is starting a new nursery or a childminder as they develop a sense of comfort with them. 

Our Satin Comforters can be introduced at any stage however, it is important to familiarise yourself with SID and safe sleeping guidelines.
Size 40 x 40 cm
Made from 100% organic cotton muslin and recycled polyester satin.
Machine wash with like colours on a low temperature. Do not use bleach.
Orders over £50 - FREE U.K. Delivery
🇬🇧Standard 48 Hour - £3.50
🇬🇧Standard 24 Hour - £4.50
For a seamless gifting experience, just leave us a message in the 'notes' section at checkout and we'll ensure no invoices are included. To add a personalised touch, feel free to include a Gift Card in your order. Just provide the message you'd like us to handwrite for you, making your gift truly special.
Share
Why Choose Our Circus Satin Muslin Comforter?
📏 Perfectly Sized for Little Hands
Measuring at 40x40cm, it's just the right size for your baby to grasp, cuddle, and take on adventures, whether it's a trip to grandma's or just a ride in the stroller.
🌟 Two-Pack For Double Comfort
Why settle for one when you can have two? Our comforters come in a convenient two-pack, so your baby never has to go without their beloved comfort companion.
🎁 Gift-Worthy Packaging
The ideal choice for baby showers or those spur-of-the-moment gifts for newborns, our products blend elegance and practicality. Plus, they arrive in our stylishly designed gift packaging, adding a touch of sophistication to your thoughtful gesture.
Your Queries Answered
Baby comforters are designed to help soothe and calm babies, aiding them to fall asleep more easily and sleep more soundly. Acting as a consistent element of comfort in their ever-changing world, our Satin Muslin Comforters can reduce stress, induce a sense of safety, and encourage self-soothing. Our silky satin edge is a material babies love to twiddle. This added sensory stimulation makes them even more effective as sleep comforters. When it comes to helping your little one achieve quality sleep, our satin muslin comforter is an invaluable companion
Introducing a baby comforter isn't mandatory but can foster feelings of safety and confidence for your child, particularly in new situations or at bedtime. To familiarise it to your child, have our satin muslin comforter present during feeding times and let it be part of your child's playtime and bedtime routines. Encourage its use in new situations for additional comfort. Allow supervised use during sleep before the age of 12 months, and, when ready, let it accompany them overnight in their cot. Don't rush the attachment process - every child is different and will form a bond when they're ready. Remember, consistency is key to successfully introducing our satin muslin comforter.
Comforters, like ours made with breathable muslin fabric, can be safe for babies when chosen wisely and used following safe sleep guidelines. The open weave of our muslin fabric allows for better airflow, reducing the risk of overheating. However, as with any comfort item, care is necessary, especially for infants under 12 months.
Younger babies might prefer dummies or pacifiers, while older ones may lean towards soft toys or blankets. It's usually appropriate to introduce a comforter during supervised awake times when your child is about 4-6 months old. For sleeping, UK guidelines recommend waiting until after 12 months (Lullaby Trust).
It's essential to stay informed about safe sleep practices and make decisions based on your comfort level and understanding.
It's not necessary to remove your child's comfort item. While it might be useful to establish guidelines on when and where the comforter can be used, complete weaning isn't required. Many children naturally reduce their reliance on their comforter as they grow. Studies have shown that attachment to comfort items generally peaks at 18-24 months, remains consistent until around 3.5 years, and then gradually diminishes by the age of 6. This phased detachment allows children to enjoy the comfort and security of their beloved item as they mature.